REHABILITATION NEEDS OF POLIO SURVIVORS
Abstract
Pakistan is one of two remaining countries yet to interrupt wild-type poliovirus (WPV) transmission(1, 2). Pakistan accounted for 86% of the global polio WPV case count in 2014 (3, 4). It has been the only country with an increase in cases from 2009 to 2014. The majority of cases appear in known reservoir areas in FATA and Khyber Pukhtunkhwa (KPK)(3). Data for polio cases in Pakistan showed an increase by 57 per cent from 58 cases in 2012 to 93 in 2013 and 306 in 2014 (3, 5). Individuals disabled through polio confront not only a range of physical disabilities but also significant social, financial and human rights barriers hindering their integration and participation in families and communities(6). These barriers in turn, lead to chronic ill-health, social marginalization, limited access to education and employment, and high rates of poverty ( 7 ) . Understanding the current health and rehabilitation needs as well as the socio-economic situation of polio survivors is critical for identifying their unmet needs(8). Access to resources on both national and global bases is a right guaranteed under the United Nations Convention on the Rights of Persons with Disabilities(9). In majority of developing countries, polio survivors remain deprived from rehabilitation services(10-12). That is why majority of polio survivors in Pakistan depend on their family members and hardly ever they function as useful members of society (13). Dependency is one of the main cause due to which these polio survivors are often is regarded and mistreated in society(14). Some major barriers to rehabilitation of polio survivor in Pakistan includes misconceptions and poor awareness about rehabilitation, lack of specialized rehabilitation centers, cultural issues and lack of social support, and above all financial and economic constraints.  Rehabilitation of stroke survivors is though expensive however it is the only way to enable them to live a dignified and productive life. Physical therapy intervention can maximize functional capabilities of these polio survivors. For example, patients with fair lower limb strength may be able to walk again, if proper assistive devices including orhtosis, crutches, or other supportive devices are provided. Provision of wheel chair to completely paralyzed polio survivors can improve their mobility. Moreover Physical therapy approaches also focuses on goals related to motor tasks and include bed mobility training (mat activities e.g. rolling, prone on elbow, prone on hands, supine on elbows, sitting in bed, vertical lift), standing in standing frame, transfers training (e.g. transfers to and from bed, floor, commode chair and car etc.), gait training, balance training and coordination training. Similarly, Occupational therapy focuses on maximizing independence in activities of daily living and their services includes hands splinting, activities of daily living training (dressing, combing, washing, bathing etc), fine motor activities of hand and modification of wheel chairs. Occupational therapist can also prepare and fabricate upper limb adoptive/supportive equipment (eating aids, writing aids, typing aids, cell phone holders) for these patients. In addition to these, psychological counseling is necessary to enables these patients to face life with all its harsh realities. To sum up, it can be concluded that though billions and trillions are spent on polio prevention in past few decades, nevertheless no concrete measures are taken till date for rehabilitation of polio survivors in Pakistan. That's the reason that polio survivors are the most stigmatized and marginalized part of the society in our country. Nevertheless, proper rehabilitation including physical therapy, occupation therapy and psychological counseling can turn these patients to live a successful life. There is dire need to highlight the rehabilitation needs of polio survivors on societal as well as on Govt. level.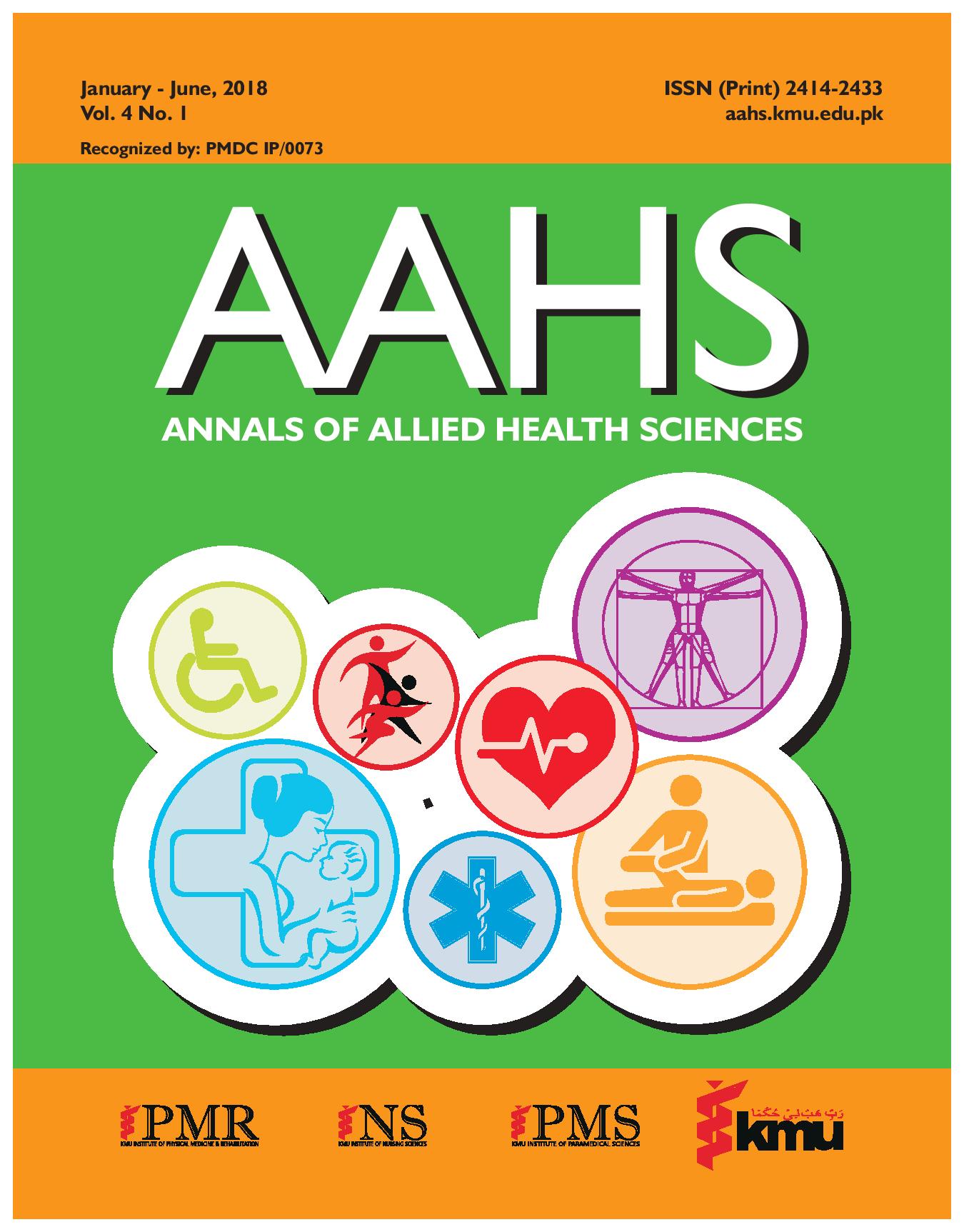 Downloads
How to Cite
Arsh, A., & Ilyas, S. M. (2018). REHABILITATION NEEDS OF POLIO SURVIVORS. Annals of Allied Health Sciences, 4(1), 1–2. Retrieved from http://aahs.kmu.edu.pk/index.php/aahs/article/view/79
License
Open Access This article is licensed under a Creative Commons Attribution-NonCommercial 4.0 International License, which permits any non-commercial use, sharing, adaptation, distribution and reproduction in any medium or format, as long as you give appropriate credit to the original author(s) and the source, provide a link to the Creative Commons licence, and indicate if changes were made. To view a copy of this licence, visit http://creativecommons.org/licenses/by-nc/4.0/.